Wholesale Fastener Distributor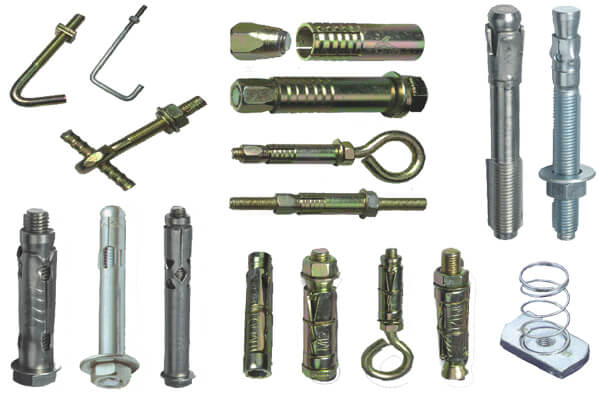 Anchor bolt fasteners are handled by PSI in a variety of ways. The quality, longevity, and strength of our products are well-known. We offer the highest quality fasteners at the most competitive prices. The following Anchor Bolt Fasteners are available from us:
Drop In

Wedge

Sleeve

Double End Studs

Bent Anchor Bolts

All Thread Rod Anchor Bolts

Epoxy Anchors

Heavy Duty Screw Anchor
The Quality that we provide with our products in second to none, we stand by our products and never let our customers down.
Anchor Bolt Examples Call For More Options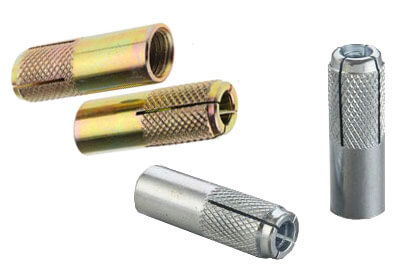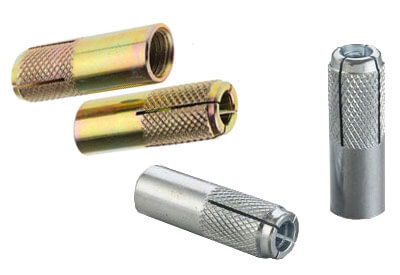 Drop In
Female concrete anchors, also known as drop-in anchors, are meant to be anchored into concrete. Place the anchor in the concrete hole that has been pre-drilled. The anchor is expanded within the concrete hole by using a setting tool.
Installing drop-in anchors necessitates the use of a setting tool. Make sure you get a setting tool if you don't already have one.
USES:
Only solid concrete should be utilized with drop-in anchors.
Their primary use is to suspend electrical cable trays, HVAC ducting, and fire sprinkler pipe and heads using threaded rod.
They can be utilized in situations when a flush installed anchor is required, as well as when a bolt must be inserted and removed.
To fix the anchor in the concrete, you'll need a setting tool.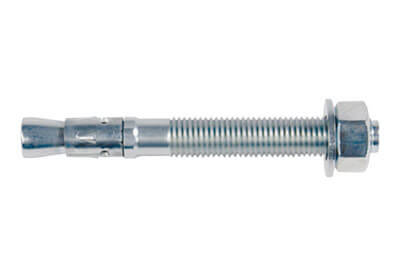 Wedge
Wedge anchors are a special sort of concrete anchor that is used to secure things in concrete. The proper Concrete Drill Bit is used to place Concrete Wedge Anchors into a pre-drilled hole, and the wedge is extended by tightening the nut. Wedge anchors can't be removed once they've been put since the anchor has enlarged. Stud anchors, concrete stud anchors, concrete bolts, and wedge bolts are some of the various names for wedge anchors. Wedge anchors are a type of non-bottom bearing anchor that can be used in both solid and grouted concrete. Zinc Wedge Anchors, Galvanized Steel Wedge Anchors, and two types of Stainless Steel Wedge Anchors (Type 304 Stainless Steel Wedge Anchors and Type 316 Stainless Steel Wedge Anchors) are available in a variety of diameters and lengths.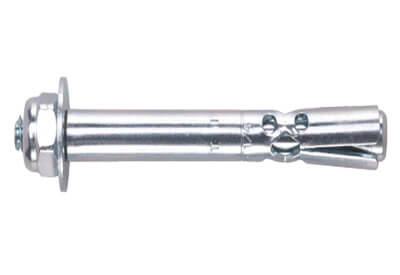 Sleeve
Sleeve anchors are one of the most adaptable masonry expansion anchors available, and may be utilized in a number of foundation materials, including block, brick, and concrete, according to many in the building trade and other industries. Sleeve anchors are available in a wide range of diameters, lengths, and head styles, making them a versatile fastener for both light and heavy-duty applications. They are also pre-assembled and ready to use right away.
The anchor sleeve is made out of high-quality steel parts. Each item is zinc-plated and arrives pre-assembled in an anchor that is ready to use. A threaded stud with an outwardly flared, cone-shaped end makes up the anchor. The tubular expander sleeve is forced against the cone's small diameter after being assembled over the stud. The anchor is completed by the washer and hex nut on the stud, which works on a true expansion principle: The nut pulls the cone-shaped stud end into the expander sleeve when it is tightened. This procedure wedges the anchor into the base material and secures it.
For outdoor and wet situations, stainless steel sleeve anchors are offered. There are four different head styles for the fastener: acorn, hex, round, and flat countersunk.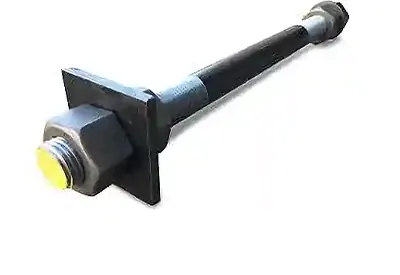 Double End Studs
Double
End
Studs
are
also
known
as
"anchor
rods,"
"threaded
studs,"
and
a
variety
of
other
names.
They're
a
common
way
to
secure
a
structure
to
its
foundation.
They've
proven
to
be
a
reliable
way
to
secure
things
like
traffic
signal
poles
and
100-story
structures.
A
Double
End
Stud
has
numerous
important
components.
The
total
length
of
the
Double
End
Stud,
the
length
of
the
thread
on
the
projecting
end,
and
the
nuts
and
washers
are
the
following.
In
addition,
an
anchor
plate
is
frequently
used
in
this
application.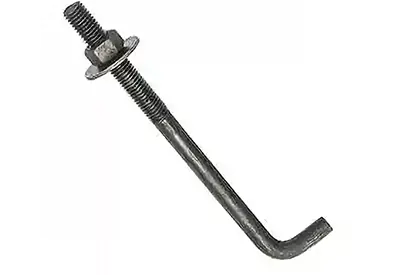 Bent Anchor Bolts
In the construction and engineering industries, bent anchor bolts (90 degree anchor bolts) are often used to attach objects or buildings to concrete. Anchoring structural columns, light poles, bridge rails, and signs are all common uses. Bent, or L-Shaped, Anchor Bolts (masonry anchors) come in a variety of shapes, sizes, and materials depending on the purpose, but they all include a threaded end to which an external load nut and washer can be added. When force is applied, the bent section of the bolt offers resistance, preventing the bolt from being extracted from the concrete.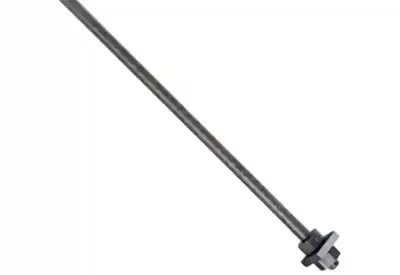 All Thread Rod Anchor Bolts
Anchor bolts are frequently made of all thread rods. With the help of a nut, or a nut and plate combination, they are implanted in concrete and provide pull out resistance with their fully threaded bodies. The anchor bolt specification F1554 is typically used to specify all thread rod anchor bolts in Grades 36, 55, and 105. When the anchor bolts are needed immediately, all thread rods are typically substituted for thread-each-end anchor rods. Because every thread rod is usually available off the shelf or with a quick turn-around time, it is frequently substituted for a faster lead time and lower cost, with the Engineer of Record's consent.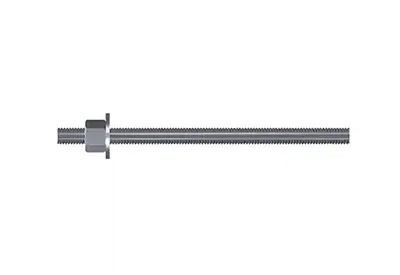 Epoxy Anchors
This is a popular application for every thread rod. When anchor bolts are required in pre-existing concrete, a hole is drilled into the concrete, which is then filled with epoxy and a piece of all thread rod is inserted. The epoxy attaches to the threads on the all thread rod, providing pullout resistance and allowing the rod to be used as an anchor bolt.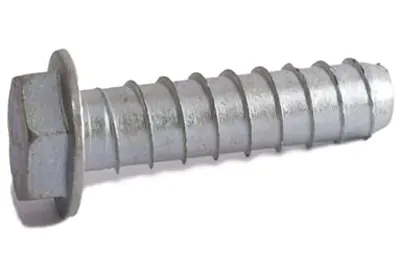 Heavy Duty Screw Anchor
A high-strength screw anchor for uncracked masonry and cracked and uncracked concrete. The Titen HD has a minimal installation torque and a high performance rating. Suitable for use in dry, non-corrosive indoor environments or in temporary outdoor applications.
For applications in corrosive or harsh situations, such as salt water, or when chemical or corrosive solutions are present, the stainless-steel Titen HD is the best choice.
Cast-in-place anchor bolts are the simplest – and strongest – type, with an embedded end consisting of a normal hexagonal head bolt and washer, 90-bend, or some sort of forged or welded flange. The latter are utilized as shear connections in concrete-steel composite structures. Anchoring machinery to poured concrete floors and buildings to their concrete foundations are examples of such applications. To attach and align cast-in-place anchors prior to concrete placement, a variety of largely temporary aids, mostly made of plastic, are developed. Furthermore, their placement must be coordinated with the reinforcing plan. There are several types of cast-in-place anchors to choose from:
Lifting inserts are used to lift RC beams that are either plain or pre-stressed. A threaded rod can be used as the insert.

Anchor channels are utilized in the construction of precast concrete connections. The channel can be made of hot-rolled or cold-formed steel, and the load is transferred to the base material using a T-shape screw.

A steel plate with headed studs welded on is known as a headed stud.

Threaded sleeves are made out of a tube that has an internal thread that is anchored into the concrete.
The mechanical interlock, i.e. the embedded component of the anchors in concrete transfers and the applied load (axial or shear) via bearing pressure at the contact zone, is the load-transfer mechanism for all types of cast-in-place anchors. If a pure tension force is transferred at failure conditions, the level of bearing pressure can be higher than 10 times the concrete compressive strength. In masonry applications, cast-in-place anchors are used in wet mortar joints during the laying of bricks and cast blocks (CMUs).
Double End Stud Details:

On a threaded end of the Double End Stud that is to be encased in concrete, an anchor plate is normally secured between two hex nuts. This is either done by the maker of the Double End Studs or by the steel fabricator who purchases the rods.
The Double End Stud, often known as the "Anchor Rod," is held in place in the field by a template. Before the concrete is poured, this template is utilized to hold the Double End Stud in place. It aids in the right positioning of the Stud in relation to the depth of the foundation, the necessary thread projection from the concrete, and the closeness of adjacent bolts.
The concrete is poured once the bolts have been installed. The threaded end of the stud will protrude from the concrete surface in some places. After the concrete has hardened, a constructed steel structure can be connected to the threads on the Double End Stud's projecting end.
As the structure is loaded and the Double End Stud is dragged away from the concrete, the anchor plate's role becomes to hold the structure together by resisting the cured concrete above it.
Larger constructions and applications requiring more complex engineering are the most prevalent uses for Double End studs.
Bent Anchor Bolts:
PSI sells a wide range of normal 90 degree anchor bolt diameters, ranging from 1/2″ to 1-1/2″, and lengths ranging from 6″ to 36″, but we specialize in bent anchor bolts made to your specifications. We can make custom anchor bolts in diameters ranging from 1/2″ to 2″ in grades 36, 50, 55, and 105. PSI can satisfy your exact requirements whether you need plain, zinc, hot dipped galvanized, 304, or 316 stainless steel.
As a wholesale anchor bolt supplier, we offer fully traceable goods that fulfill ASTM, SAE, ASME, Military and Federal Standards, ISO, AASHTO, and special specifications.
Heavy Duty Screw Anchor Details:
Characteristics:
ACI 355.2, AC193, and AC106 standards were followed during testing. Static and seismic loading conditions qualified
Thread design incorporates undercuts for optimum load transfer to the underlying material. Fractional sizes that are standard.
A specialized heat-treating procedure hardens the tip for enhanced cutting while maintaining ductility. There's no need for a unique drill bit because it's meant to be installed using standard-sized ANSI tolerance drill bits. Unless needed by regulation, a hex-washer head eliminates the need for a separate washer and provides a neat installation. Removable perfect for temporary anchoring (e.g., formwork, bracing) or situations where fixtures may need to be relocated. It is not suggested to reuse the anchor because it will not attain the indicated loads.
Material:
Finish:
Zinc plated or mechanically galvanized

Not recommended for permanent exterior use or highly corrosive environments
Installation:
Drill a hole in the base material using a carbide drill bit the same diameter as the nominal diameter of the anchor to be installed. Drill the hole to the specified embedment depth plus minimum hole depth overdrill (see table below) to allow the thread tapping dust to settle, and blow it clean using compressed air. (Overhead installations need not be blown clean.) Alternatively, drill the hole deep enough to accommodate embedment depth and the dust from drilling and tapping.

Insert the anchor through the fixture and into the hole.

Tighten the anchor into the base material until the hex-washer head contacts the fixture.
1210 C N Council Rd, Oklahoma City, OK 73127 Phone: 405-782-0380 Fax: 405-782-0387